QUOTES
"Cari Burdett's dramatic cabaret was a wonderful evening of music and song, which everyone loved. Cari's wide-ranging vocals, accompanied by great musicians, made for a magical evening. We look forward to her return" - Neville Hope, Fanny Bay Community Association, April 2017

"A stunning accomplishment. Burdett's voice is strong and versatile… a rich journey across genres and musical eras, a remarkable cast of superb musicians, they breath new life into a beautiful collection of classic songs." – Kelly Nakatsuka, All Points West – CBC Radio

"An eclectic mix with influences ranging from art song and opera to jazz and gypsy. Threading it all together is Burdett's sultry voice, a smoky mezzo-soprano" – Adrian Chamberlain, Victoria Times Colonist

"Cari, your set was incredible. What a strong and diverse voice you have!" - The Salt Spring Music & Garlic Festival

"A pleasure to meet this powerhouse performer, her skilled intensity with a wide range, from opera, to folk and feisty gypsy cabaret style music" – Daphne Goode, Shaw TV

"Cari is a house on fire … big, hot, passionate, hungry and beautiful … she will eat you up and leave your breathless … you do not want to miss out … magic." – Anne Schaefer, Singer/Songwriter

"Working on this album with Cari and the fine musicians involved has been incredibly inspiring. So many colours and emotions! Thank you, Cari, for involving me in this fine project." – Miles Black, Pianist

"Her warmth and humanity bubble up through the rich honey of her voice" – Cowichan Valley Citizen

"Burdett took the audience on an intimate journey" – Cowichan Valley Citizen

"Sensitive and beautiful arrangements, your voice is simply lovely."– Anna Höstman, Composer/Artist

"Cari is a powerful presence onstage...her strong voice, vitality and passion is catching..." – Ken Hicks, Presenter

"Cari is a joy to work with. Our audience loved her so much, we've invited her back to sing with us again this summer" – Norman Nelson, Maestro, Sooke Philharmonic Orchestra

"Take this album aside, and like a good bottle of wine, let its music envelope you." — Ken Lavigne, The Travelling Tenor

"I'm not sure how to go about this, as I don't usually write to a performer who has moved me...There was so much of the dimensions of YOU that you brought to this performance. So much of your soul shone through. Your voice IS an instrument, and one of such range, variety, colour, meaning, as to sculpt sound into gems of time. I can only thank you deeply for that rich experience I and my partner enjoyed last night." - Audience member
"From the first note, Cari held the rapt attention of the studio audience with her polished performance. Her expressive voice handles many different genres effortlessly and each song was rewarded with exuberant applause. The interaction and communication between Cari and the muscians was wonderful to watch. She has gathered a lot of new fans here in the Comox Valley. We look forward to having Cari back again at Studio Live." - Roger Baird, Studio Live

" Cari transports the audience to another world with her sultry voice, storytelling and beautiful stage presence. All ages enjoyed the show and we look forward to having them return! We very much appreciated how easy and flexible Cari was to work with!" - Jennifer, Stowel Lake Farm
High Res Photos
Approved for use in publicity & promotion
Radio Play and Interviews:
 Margaret Gallagher of CBC's Hot Air- April 2017

The Lounge 999 FM- March 2017

 (French) - Jacques Dufresne of CBC's Boulevard du Pacific- March 2017

Coco Nette, Jazz Across the Country, Montreal.

 Stanley Pean Jazz, ICI Musique, Montreal

 Interviews with CBC All Points West, - Kelly Nakatsuka

(French) Radio Canada - Phare Ouest

 Salt Spring Jazz Radio Show

 CFAX Radio

 CHLY 101.7 interview with Joani Isberg Herrin, Nanaimo

Juice FM, Duncan BC
Television:
 Spotlight on Shaw TV- (Magnolia Album release)- Oct 2015

 Feature on Shaw TV- (Solstice Concerts) 2014-2017

Print & Web:
 Monday Magazine- June 2017

Nanaimo & Voyager Magazine- May 2017

What's On Digest- April 2017

 Duncan Journal- March 2017

Parksville & Qualicum News- March 201

 Web only- Round House Radio website- featured artist- March 2017

Central Island Boulevard Magazine (Winter Solstice)- Fall 2016/Winter 2017

 Cowichan Citizen (Winter Solstice)- Dec 2016

 BC Local News- (Wild is the Wind tour)- Oct 2016

 Nanaimo News Bulletin- May 2016

 The Fishbowl- March 2015

Oak Bay News- (Winter Solstice)- Dec 2016

 Times Colonist- (Magnolia Album release) – March 2015

Cover Cowichan Valley Voice- March 2015

Cowichan Valley Citizen- Nov 2014
AWARDS
Scholarship recipient, Banff Centre of the Arts, Music Residency, 2017

Awarded Vocalist of the year, Vancouver Island Music Awards, 2016

Album of the year nomination,Vancouver Island Music Awards, 2016

Artist of the year nomination, Vancouver Island Music Awards, 2016

Video of the year nomination, Vancouver Island Music Awards, 2016

Producer of the year, went to Joby Baker for Magnolia, Vancouver Island Music Awards, 2016

Scholarship recipient, Banff Centre of the Arts music residency, 2015

Western Canada Music Awards – nominated for Best World Album 2015

Finalist in Vancouver Island Song Writing competition, 2014

The Eckhardt-Gramatté National Music Competition, Semi - Finalist 2008

On Scholarship for both MgGill BMus and the Royal Academy of Music, London, UK, for MMus, in Opera & Performance Voice with new music focus.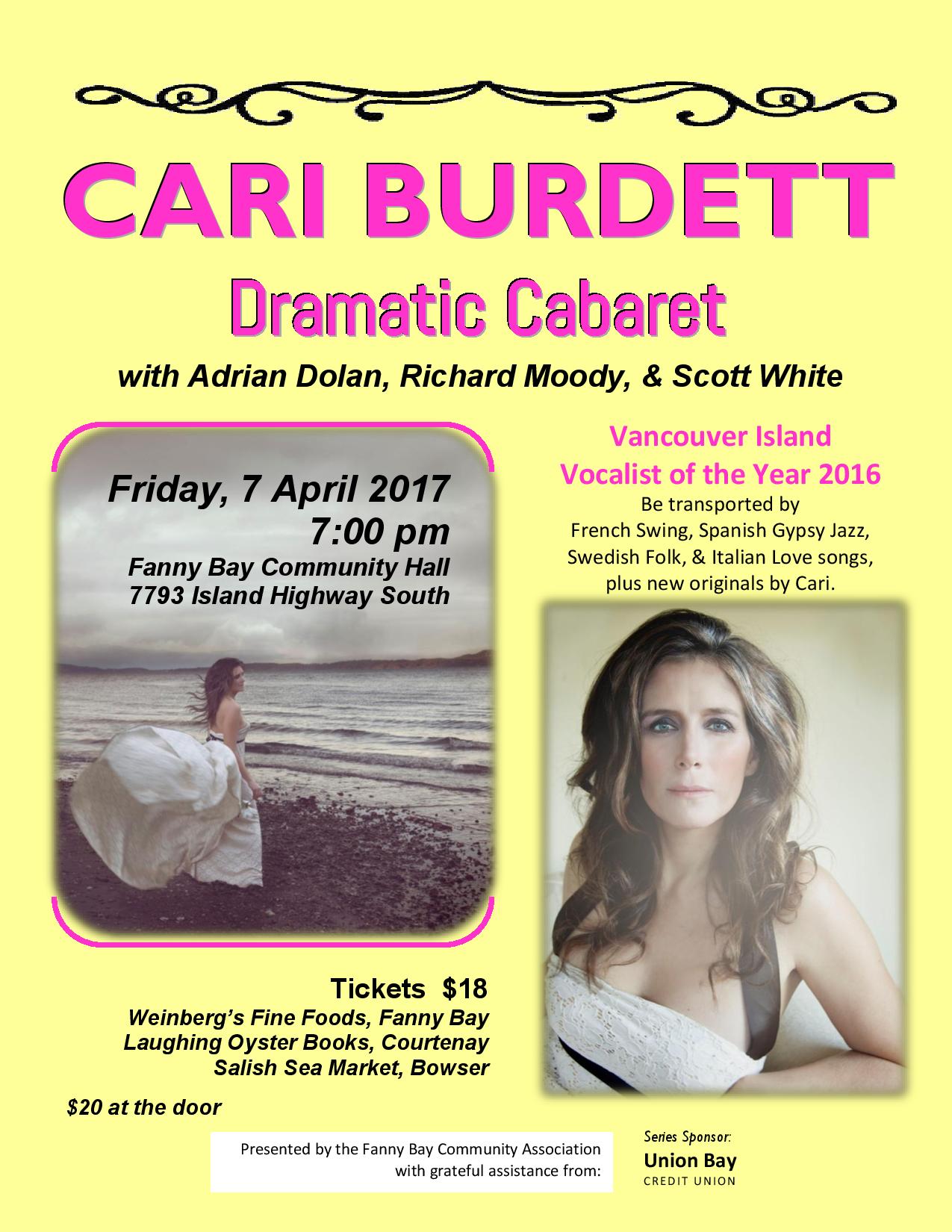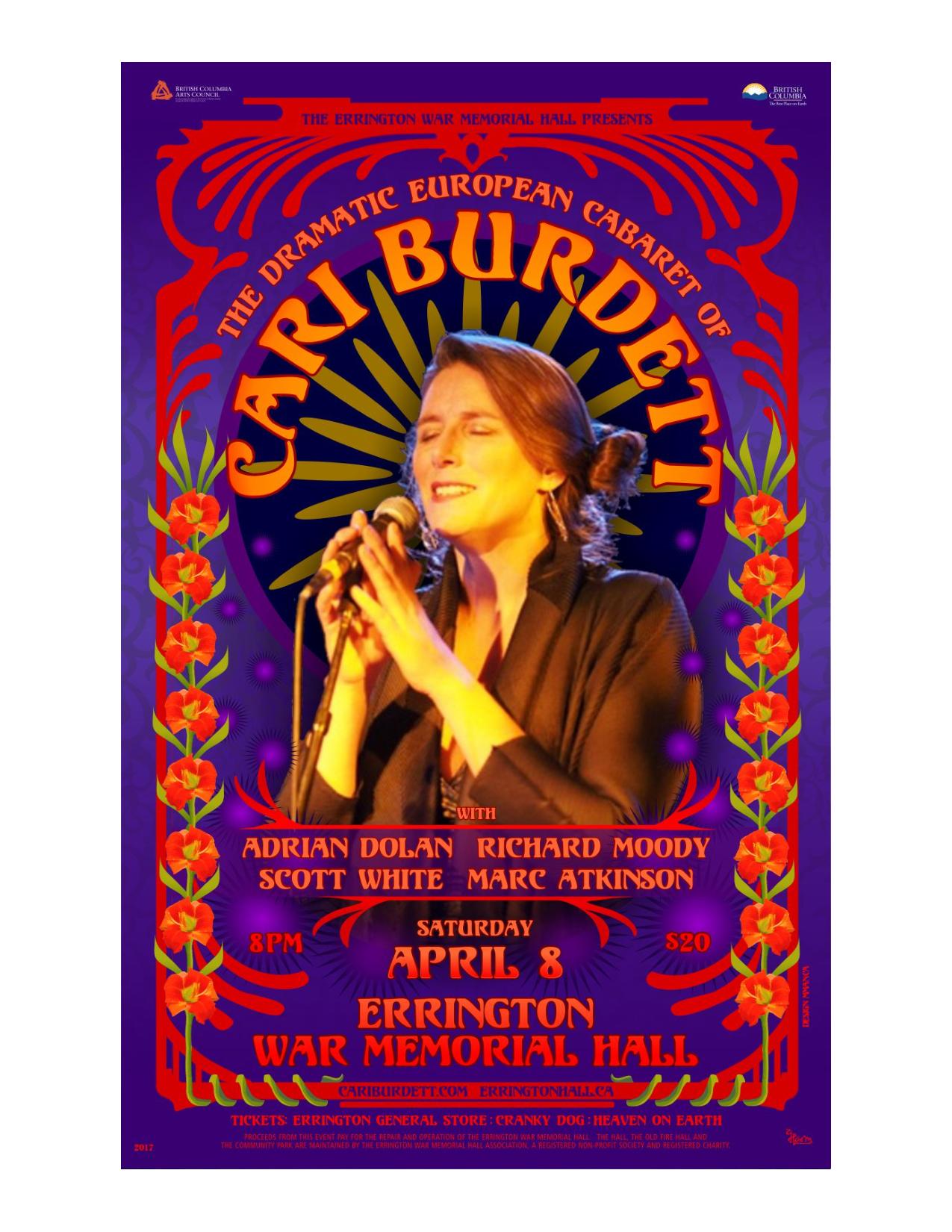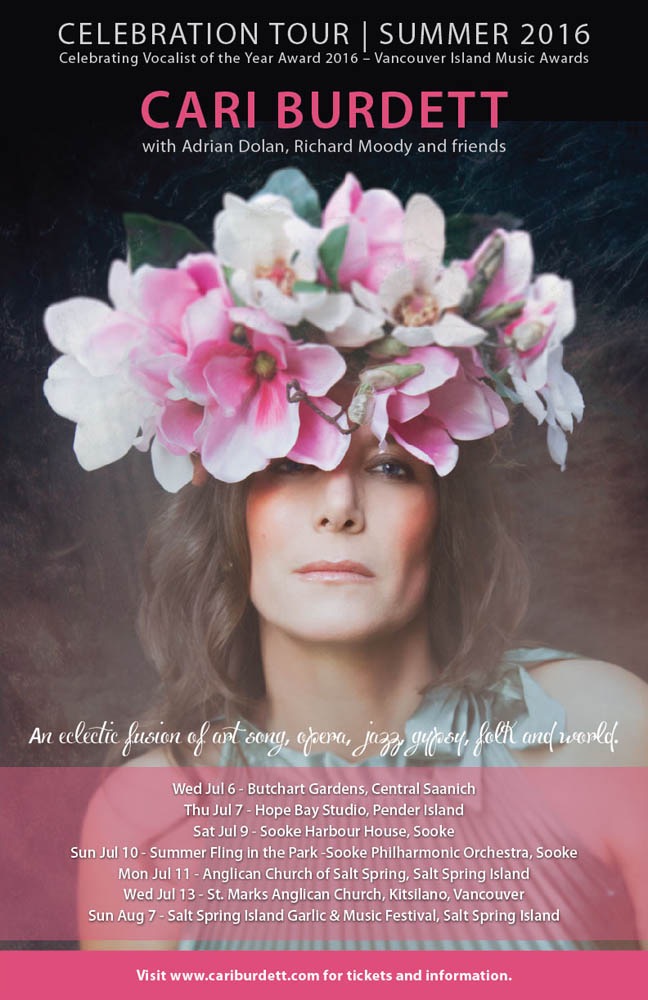 Examples of articles
oliver Daily news · FEBRUARY 25, 2018
by Sue Morhun FEBRUARY 12, 2018, 7:41 AM
GYPSY CABARET REVIEW
From the moment she stepped onto the stage, chanteuse and luscious storyteller Cari Burdett easily swept her audience into the international cabaret scene in the third offering of South Okanagan Concert Society's season. "Sweet Love" was the theme of the tour we embarked on and there was no doubt "amour" is truly Cari's genre – passionate love for a person, for family, for nature, for place. Her sensuous and intense deliver, her sultry mezzo voice and her graceful gestures transported us into the world inhabited by the troubadours and gypsies of old. This is a genuine and inspired performer.
Cari's natural gifts led us through the nightclubs of Rome, Paris, Berlin, Stockhom, New York and Santiago, Chile with timeless and theatrical flair. Cari sang seamlessly in the language of each country. Accompanying her on our delicious musical journey were four equally talented musicians. Music arranger Adrian Dolan on piano and accordion kept the vibrant fusion of jazz, folk and world music moving easily throughout the entire performance. Gypsy jazz guitarist Mark Atkinson and jazz bass player John Lee rounded out the pulsing, rich rhythms with great depth while the soaring, sweet notes from Juno award winning violinist Meredith Bates offered a complex counterpoint to the sorrowful tales of lost or passionate love.
While we were treated to love songs written by Canada's Joni Mitchell, American Carole King and even Bizet's "Carmen", my favourite of the evening was an original composition by Cari titled "Let Me Go". It suited her style and singing intensity admirably.
The highlight for many in the audience was an Edith Piaf medley delivered with the same throaty fervor aficionados associate with the legendary French chanteuse. It was a great way to end the ensemble's first set. If there was any regret that evening, it was the limited opportunity to hear the quartet play individually. When they did just that, it was easy to appreciate what a wonderful ensemble they truly are. Together they and Cari offered a unique and special package, a lovely present for Valentine's Day.